One night after the Mets' Weekly Wacky Wednesday Outburst of Offense (it got me wondering if the Nats had added an Adams to the Presidents Race, only adding an extra letter to the last name and making it Wednesday Addams), the rubber game of the series got rained out. That led to SNY filling the slot with a Mets-Cardinals encore from 2006.

REALLY? Why not just put up a never-ending GIF file of Beltran looking at the last pitch of that season and save on production expense?

The rainout also brought the bloggers to a sudden stop, leading one of the best of them to have to stoop way below the belt buckle to come up with, yes, Wilbur Huckle. That Met who (probably) never was, who inspired a 1964 presidential campaign that was only slightly less successful than Barry Goldwater's, and whose Baseball Reference career consisted entirely of three forgettable short seasons in a dump (at the time) of a ballpark 30 miles or so from right here:




Now known as the Muckdogs, and most famous of late for being the place the Yankees wouldn't let Andy Pettite pitch a year ago, the Batavia franchise is the only charter NY-P member to have continuously operated since the Depression. That may be logical, since Batavia, New York is about as depressing as it gets. Just drive by the harness track-slash-racino, or watch the seniors trundling into Alex's Place up the road (motto: "Awe man now I want ribs!").

Yet I come not to praise Wilbur, or even to bury Batavia. Jason's riff on him reminded me that I had a post in me, a week or so ago, which came to be as I watched the nameless, faceless players on both sides of Citi Field as the Nameless Mets beat the Faceless Yankees for the first of their four surprising times.

Which of these two clubs would be the one to resort to signing the most faceless famous ballplayer of all time?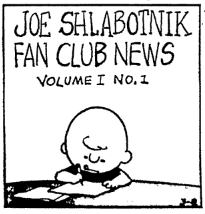 I'm not the first to make the connection between Wilbur and Joe- this guy did it over four years ago- but that's the kind of guy Joe Shlabotnik is. He makes random people think of him around Presidential election years. He'd probably bet on Millard Fillmore in the Presidents Race, even though Fillmore has never competed in it.

There's a whole Peanuts Wiki entry about him, which I found on my own before finding the 2008 blog piece. It summarizes most of Joe's greatest accomplishments on and off the field. His onfield record beat Wilbur's in at least the respect that he once got a major league hit out of a painful number of at-bats:

Shlabotnik was demoted to the minor leagues after hitting .004 over an entire season; his one hit was a bloop single with his team comfortably ahead. One time he promised to hit a home run in the bottom of the ninth; he popped out instead, but circled the bases anyway. His greatest achievements included making spectacular plays on routine fly balls and throwing out a runner who had fallen down between first and second.

Must've been the Polo Grounds Mets; I think I saw that on the 1963 Yearbook rerun during another rainout.

Yet he somehow captured the heart of Charlie Brown as no slugger ever did or could, and similarly disappointed:

Linus once invited Shlabotnik to a testimonial dinner for Charlie Brown; unfortunately, the ballplayer got lost en route from his day job at a car wash. Another time he was scheduled to appear at a sports banquet where fans could dine with their favorite athletes (the guest list included Willie Mays, Hank Aaron, Jack Nicklaus, and Peggy Fleming), and Charlie Brown, Linus, and Snoopy bought tickets to sit at Shlabotnik's table. He was the only athlete who did not show up, explaining later that he had marked the wrong event, city, and date on his calendar.

And of course, leave it to Lucy to end the story with schadenfreude:




In two Sunday parts, even:




Sadly, I still find the Mets cute enough to keep out of the bin. How much longer that will continue? Only the Great Pumpkin knows for sure.